ABT.: "...mehr Nägel, ich rutsche."
Die für den
DC Vertigo
Label angekündigte Satire-Serie
"Second Coming"
ist kurz vor dem Start von Verlagsseite gecancelt worden.
"Second Coming"
ist eine religiöse Parodie von Autor
Mark Russell
(hochgelobt für seine Arbeit an
"God Is Disappointed in You"
und besonders DC's Neuinterpretation der 60s Cartoon-Show
"The Flintstones"
) und Zeichner
Richard Pace
(
"Imaginary Fiends"
).
In
"Second Coming"
schickt der liebe Gott seinen einzigen Sohn (
"Jesus Christus"
) auf eine neue Mission zur Erde hinab. Dort angekommen teilt sich der Messias nun eine Wohnung mit dem "last son of Crispex",
"Sun-Man"
(eine Parodie auf den "last son of Krypton", "Superman").
Klingt eigentlich auch nach 'ner Neu-Version der 70er Jahre Sitcom
"The Odd Couple"
(
"Männerwirtschaft"
).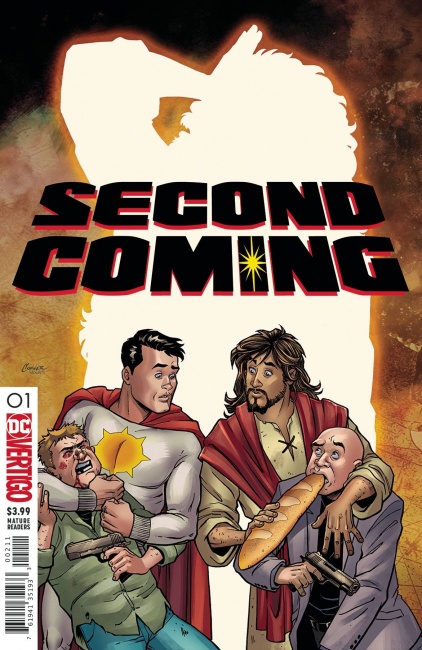 Erst-Ausgabe nun ohne DC/Vertigo Label
Aber allein die Ankündigung von
DC / Vertigo
, diese Comic-Serie veröffentlichen zu wollen, sorgte für
Proteste, Drohungen und Boykottaufrufe
extrem religiöser Christen-Gruppen gegen den Verlag, die der Auffassung sind, das
"Second Coming"
blasphemisch
und
unangemessen
sei und keine "
amerikanischen Werte
" vertritt.
(auweia! wie dämlich ist d a s denn.)
Eine dieser kirchlichen Gruppierungen sammelte etwa 230.000 Unterschriften gegen eine Veröffentlichung der Serie durch
DC
.
"DC did not do anything untoward to me," erklärt
Russell
seinen Fans im tweet.
"I asked for the rights back and they (DC) gracefully agreed...
...My goal is always to write the best books I can about things I have a deep personal attachment to. Publishers have goals of their own. Sometimes our goals complement each other's, sometimes they don't. It's okay to admit it when they don't and go separate ways...
I want to thank everyone at Vertigo who's gotten it to the point where it's as good as it is. Specifically, I want to thank Molly, Maggie, and Mark for all their support and hard work. Wherever it ends up coming out, know that this is still your book..."
Russell
will seine Religions-Satire nun bei einem anderen Verlag veröffentlichen. Man darf gespannt sein...
Aktuell veröffentlicht DC derzeit seine Mini-Serie
"Wonder Twins"
, basierend auf den Figuren aus den 70er und 80er Jahre Cartoon Shows um die
"Super Friends"
.
Zeichner Deix hatte damals weniger Probleme: Arnold Schwarzenegger als "Messias"